This page gives a very short outline of the history of BRIB. Further information can be found in a small publication "One hundred and Fifty years of Progress" which was printed by BRIB in 1996 and a copy of which is available at Birmingham Library and the text is available at the bottom of this page.
Please note that any records that were still held by the charity have been transferred to Birmingham Archive Service based at Birmingham Library and if you want more information than provided below this is a good place to start. Unfortunately we do not still hold anything like student records here at the BRIB offices so are unable to help with enquiries about relatives who may have attended the school.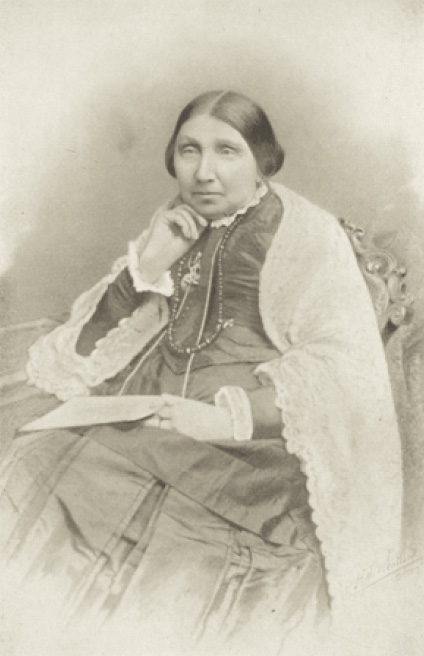 Early Years
BRIB was started in 1846 when Mary Badger and Elizabeth Harrold rented a small house in Edgbaston, Birmingham for the education of six blind children. The idea for this school had actually originated prior to 1846 with Birmingham merchant William Harrold who was the father of Elizabeth Harrold but unfortnately he did not live to see his dream realised.
After it's modest start, the charity was formally established as a public charity in 1848 when it also moved to larger premises, enabling it to support 25 children.
Growth continued and a new school in Carpenter Road, Edgbaston opened in 1852. Since this time premises have been used at Lickey Grange (which closed in 1977 following a fire) and Harborne which opened in 1904 and is still in use today,
What was taught
From 1854 pupils began to gain employment which was unusual for disabled people at this time and the school itself appointed its first blind tutor, a former pupil, and introduced home based instruction for blind adults.
Braille was introduced for the first time in 1880. Other sugects taught included typewriting, machine knitting, coal bag making and boot mending. These may all have been more pleasant than brush making which used hot tar.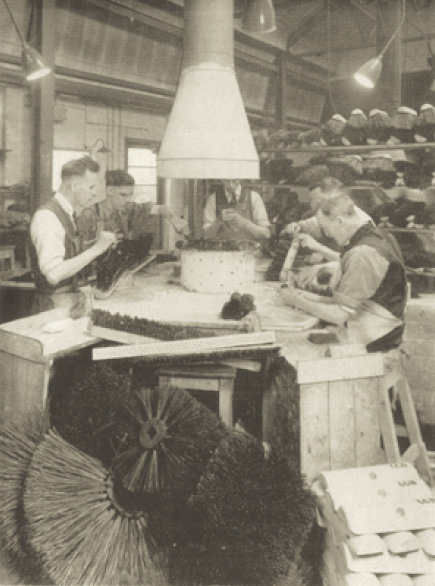 In 1910 the school curriculum was broadened to ensure that all partially sighted children were taught to read and write using the conventional methods withthe aim of them later transferring to ordinary schools. From 1920 blind children were allowed to take the same examinations as sighted people such as City and Guilds.
Royal Patronage
King Edward VII and Queen Alexandra visited and conferred Royal patronage in 1909. The main school at Carpenter Rd becomes known as the Birmingham Royal Institution for the Blind and the school at Harborne as the Queen Alexandra Harborne Kindergarten.
Vocational Education, Employment and Expansion of Services
In1926 Radio Services werre established - issuing and maintaining wireless sets to blind people in Birmingham, Smethwick, Oldbury and West Bromwich.
The technical department at the Harborne site was deisgnated as a Technical College in 1958 and new buildings were added. It was formally opened in June and known as the Queen Alexandra Technical College for the Blind which later became Queen Alexandra College (QAC). QAC was invited by the Department for Education to become a Vocational Assessment Centre for Blind Adolescents in 1963, providing pre-vocational assessment, further education and training.
In 1968 the Elizabeth Gunn Centre on the Harborne site was formally opened. In 1978 Brib Housing Society established with the aim of providing suitable accommodation for people with multiple disabilities and in 1983 plans were drawn up to add sheltered housing at the Harborne site and this was opened in 1991 by Queen Elizabeth, the Queen Mother. Today, this site is leased to the New Outlook Housing Association and continues to provide managed accommodation for blind and disabled people in the same buildings.
In 1993 a Low Vision Centre was established, offering assessment and training for people with low vision and supplying specialist equipment, advice and information. A mobile vision service and Talking Eyes (an Asian language talking newspaper) were also launched. A Resource centre began to offer a wide variety of specialised items such as watches, clocks, measures and scales and reading and writing devices.
More recent times
1996 saw the commission of a major review of BRIB's structures and operations and this led to the split into independent charities in 1997. Birmingham Focus on Blindness, Queen Alexandra College (QAC) and BRIB Housing Society (renamed New Outlook Housing) were established as independent charities, with their own governing bodies. BRIB retained ownership of the main site in Harborne, leasing areas of land to the new charities.
From 1998 to 2000 a new BRIB board was established, with BRIB governors sitting alongside three representatives each from QAC and Focus.. Efforts focussed on supporting QAC to develop facilities in the College and assisting Focus in a review of the services they offer. This governance structure continues today although was subject to further review in 2005 and 2016
To ensure the charity stays up to date BRIB reviewed its Memorandum and Articles of Association in 2004-5. Its main objects remained unchanged but activities which it no longer undertakes were removed and wording was modernised.
2013 saw Guide Dogs welcomed to the Harborne site. Working with QAC and Focus these charities help to create a VI Centre of Excellence.
There has been major expansion of the Elizabeth Gunn Centre run by Focus Birmingham and QAC has opened both a purpose built sports hall and specialist travel training facility designed to assist students to safely negotiate the street environment, including road crossings, dropped kerbs, street light columns and other street furniture.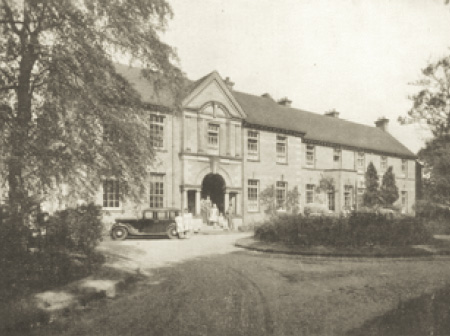 Downloads

150 Years of BRIB